E-bikes, electric rental bikes
Rent an electric bike
At Sanders Rental you can easily rent an electric bicycle. Enjoy the convenience of pedal assist and cycle against the wind, through hills and over bridges. You will notice how easily you cycle uphill, as if you have a support in the back. We deliver in parts of Limburg, Brabant and Gelderland and also collect the rented bicycles. When you enter the address details on our rental site, the costs for collecting and/or delivering the rental two-wheelers are automatically calculated.
An electric bicycle makes cycling easier. You pedal yourself and are supported by the built-in pedal support. With an electric bicycle you are therefore sporty, but with a lower load on muscle strength and endurance. You can easily make a longer trip with a rented electric bicycle.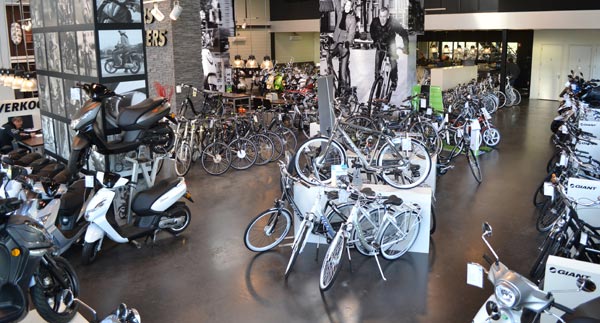 When to rent an electric bicycle?
You can choose to conquer the wind and the hills more easily. Even for longer distances, an electric bicycle gives you more energy to enjoy the surroundings and you arrive at your destination relaxed. Our e-bikes are all from the top brand GIANT. All the rental bikes are equipped with an aluminum frame, so they are very light. Sanders Rental also rents out electric mountain bikes; also GIANT.
Renting an electric bicycle offers advantages:
Cycling through the hills.
Cycling against the wind.
Long-distance cycling recreationally and relaxed.
Get fit and not sweaty on a nice terrace.
Easy to operate
You can easily operate an electric GIANT bicycle: you only have to switch on the support with a button and you can then choose from three positions. For example, on a hill you choose the strongest setting and on a flat part you use the lightest setting. You can also switch off the pedal assistance completely.
For the rental of electric bicycles, you can choose from Giant's quality range. Giant bicycles are light, reliable and strong thanks to the aluminum frame.
Options, when renting an electric bicycle