Business rent
Our business rental has grown enormously in recent years. We have about eighty scooters, 50 e-bikes and more than 200 "normal" bicycles at our disposal. Sanders Tweewielers delivers and delivers on location and tailor-made, so that you are really unburdened. When you enter the address details on our rental site, the costs for collecting and/or delivering the rental two-wheelers are automatically calculated. If the number of two-wheelers you want to rent increases and the period is longer, the rental price automatically drops, while the delivery and collection costs remain the same. Let us arrange your means of transport and we guarantee that your organization is and remains mobile! Companies in our portfolio include:
- SBS 6
- Foundation 4-Days
- Mojo Records
- Matrix
- FortaRock
- Down to the Rabbit Hole
We also often rent out for company outings, bachelor parties and family days. Of course we bring the two-wheelers to the desired location and pick up the two-wheelers afterwards.
Tax benefit with company bicycle and scooter
By renting a scooter, bicycle or electric bicycle you save on costs if this two-wheeler is replaced by a car. Tax benefits may apply when a company bicycle or company scooter is made available. We are happy to tell you more about it.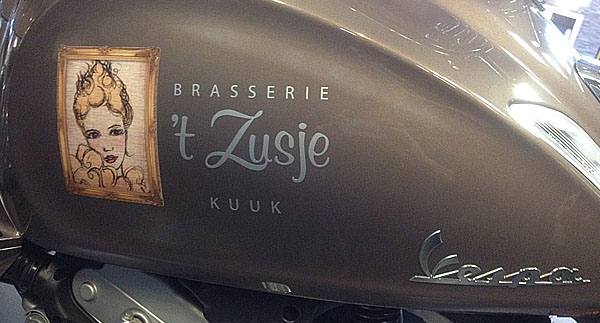 Advantages of renting a bicycle or scooter for business:
Flexible transport within the region
Electric scooter: environmental benefit
No parking costs
Including service/maintenance
Handling damage and accidents
Mobility guarantee: free breakdown service with exchange guarantee.
Including lock.
Your choice of scooter lease and company bikes
You can rent bicycles or scooters at Sanders Tweewielers in a model of your choice. You can also opt for electric bicycles and electric scooters. Do you have special wishes? Spraying in company colors and advertising lettering are possible. Let us know.